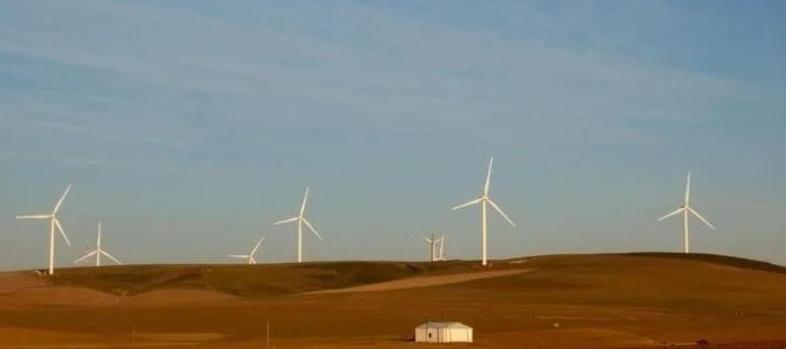 Written by BEE NEWS on July 20, 2023
Setbacks in South Africa's Green Power Initiatives as Projects Encounter Difficulties
News
According to two government sources who spoke with Reuters, approximately half of the projects awarded in South Africa's renewable power purchase programme relaunch have encountered failures. This setback is undermining the nation's plans to utilize wind and solar energy to alleviate the ongoing power crisis.
Frequent breakdowns at the aging coal-fired plants of state power utility Eskom have led to daily planned power cuts in South Africa, the most developed economy on the continent. President Cyril Ramaphosa has stressed the urgency to address a significant electricity production deficit, ranging from 4,000 to 6,000 megawatts (MW).
After a six-year pause, South Africa conducted a bidding round in 2021 for wind and solar projects, which garnered aggressive proposals from over 100 firms and consortia. A top government official, directly involved in the renewables program, expressed optimism when the tariffs in the fifth renewable round were announced, considering it could have been the most cost-effective renewable program ever if all projects successfully reached financial close.
However, the government's current expectations indicate that only half of the 2,583 MW in capacity, initially anticipated from the auction, will actually come online. Among the six entities that emerged victorious in the bidding round, the Ikamva Consortium secured an impressive 12 out of the 25 projects available.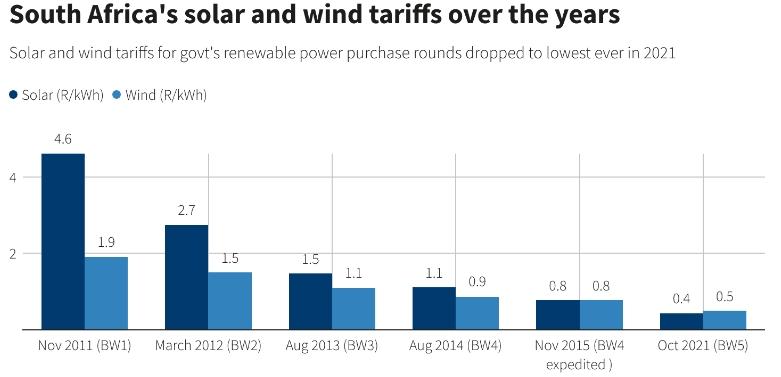 According to the source and a second senior government official who spoke to Reuters, the projects awarded to Ikamva based on record-low tariff bids have encountered difficulties and fallen through. The second official criticized the approach taken in bid window five, stating that placing all focus on projects with extremely low tariffs was impractical and unwise.
Both sources requested anonymity as they were not authorized to make public statements on the matter. Despite an email seeking comment, South Africa's energy department, responsible for overseeing the renewable rounds, did not provide a response.
The Ikamva Consortium comprises Mainstream, a company listed on the Oslo stock exchange through Aker Horizon (AKH.OL), as well as South African billionaire Patrice Motsepe's Africa Rainbow Energy & Power, local firm H1 Holdings, and Globeleq, which is owned by the development finance institutions of Britain and Norway. As per the two sources, Ikamva's six wind power projects did not proceed to sign legal agreements despite successful bids. Additionally, six solar projects failed to secure financial closure before the June 30 deadline.
In response to inquiries from Reuters, Ikamva stated that its calculations were affected by higher interest rates, rising energy and commodity costs, and slower equipment production in the post-pandemic period. These factors have led to construction costs that exceed what the Ikamva Consortium can manage within the Round 5 bid tariff.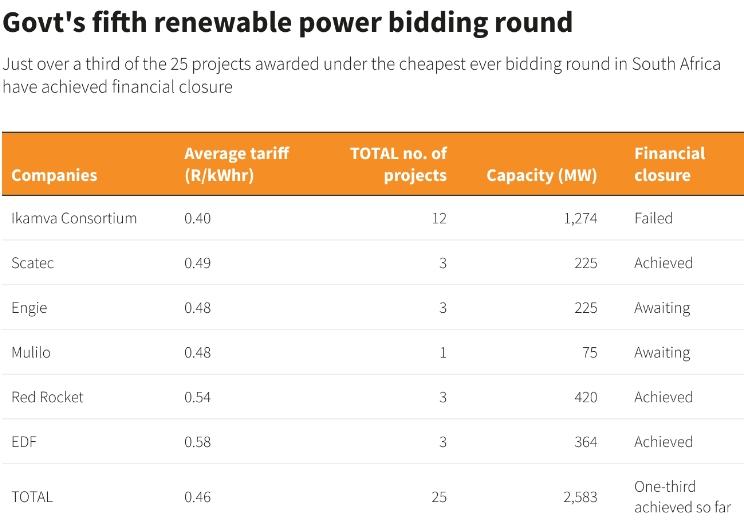 Similar obstacles have been encountered by other companies, making fundraising more complicated. As of now, only nine out of the total 25 projects have successfully reached financial closure. Four additional projects, three owned by France's Engie (ENGIE.PA) and one by South Africa's Mulilo, have a financial closure deadline set for September 30.
Engie and Mulilo did not provide any comments in response to email requests. However, the second government official expressed optimism that they would secure the necessary funds for construction. On the other hand, Ikamva informed Reuters that its projects were "construction-ready" and that it was in discussions with the government to establish "an agreed way forward."
Private investors are increasingly supporting projects aimed at enhancing power production in South Africa. However, a significant constraint on the country's efforts to address the energy crisis is the scarcity of transmission capacity. The consortium did not provide a direct response to a question regarding its expectations for the grid transmission capacity allocated to its projects.
You may also like
Archives
Calendar
December 2023
M
T
W
T
F
S
S
1
2
3
4
5
6
7
8
9
10
11
12
13
14
15
16
17
18
19
20
21
22
23
24
25
26
27
28
29
30
31