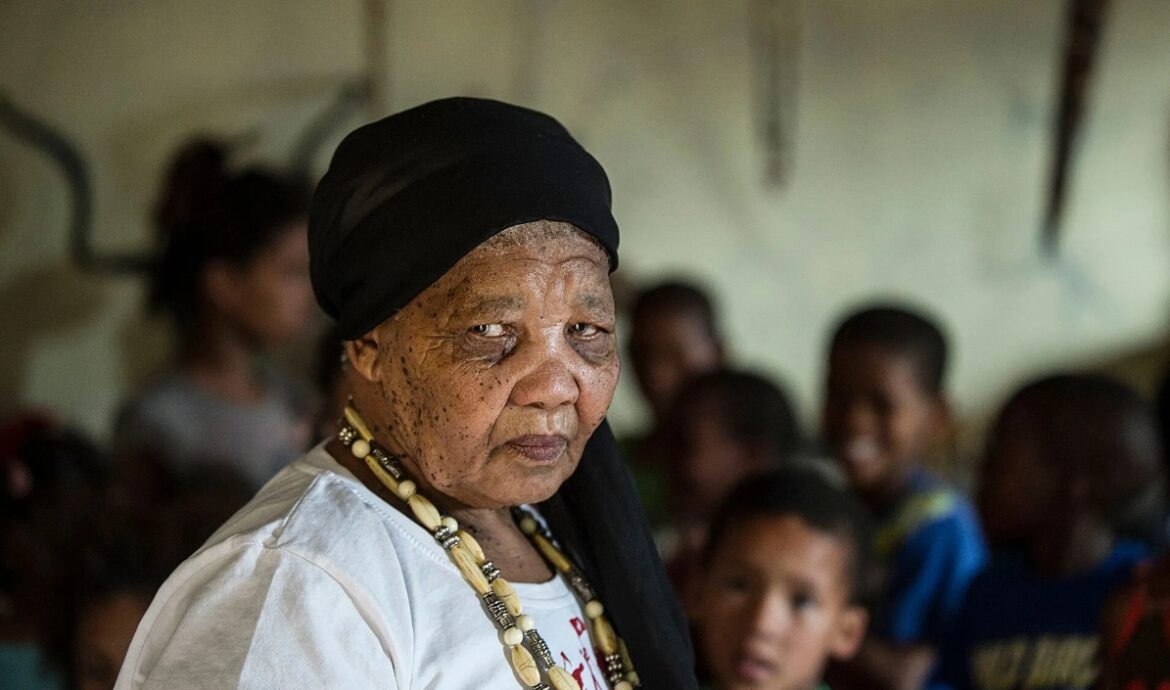 Written by BEE NEWS on July 27, 2022
In South Africa, a grandmother fights to save one of the country's oldest languages
News
In the Rainbow Nation, the language of the San, whose origin dates back millennia, is on the verge of extinction. The last person in the world to speak it fluently, Katrina Esau, 89, has decided to fight for her to survive him.
In the far north of the country, the city of Upington extends to the gates of the Kalahari desert. It is in this desert that the San, a group of indigenous peoples of southern Africa, have been accused during the centuries of colonization. And it is in this city that lives Katrina Esau, the last person to speak one of their original languages, the nluu.
Under the awning of her house, Katrina and her granddaughter Claudia welcome children from the township. After school, she teaches them some nluu. Claudia asks them to repeat a few simple sentences written on a board. Children purse their lips, like a kiss. Under the brilliant gaze of Katrina, they try to reproduce one of the 45 clicks of this language which has 112 different sounds.
A language victim of the Afrikaners
Katrina Esau was born in 1933. At the time, the San people were particularly despised. Their language is banned from the farms where Katrina's family works. "They said our language was ugly, and they forbade us to speak it," she says. So Katrina and her people bury their clicks and words in a corner of their minds and adopt Afrikaans, the language of the Dutch settlers.
In the 1990s, linguists came to Upington with nluu recordings. They are looking for the last speakers of this language that was thought to be extinct. For Katrina, it's a shock. "I never imagined that our language could disappear! Otherwise, I would have taught it to my children, "she says, her eyes filled with regret.
Awareness
Illiterate, Katrina then gives herself a mission: to save the language of her ancestors. She did not pass it on to her children, never mind, she will teach it to her grandchildren! In 2004, she founded a school in front of her door. She surrounds herself with her granddaughter, Claudia, who showed an interest in nluu very early on, and who can read and write. Since then, Katrina lives only for her dream: to be assured at her death that her language will survive her.
Linguists regularly come to meet her to document the nluu. In 2013, a new team attached to the University of Cape Town decided to help the Katrina school. For three years, Sheena Shah and Matthias Brenzinger designed a school textbook with her and Claudia. "Previous linguists had already done a lot of work, but it was very academic, it needed something the community could use," Sheena says. Little by little, they elaborate a script for this oral language. "We suggested spellings, but they always had the last word," Matthias explains. These languages ​​belong to the community. Spelling is not for linguists, it is for them. If they don't use it, there's no point. »
The fight of a lifetime
For two years, the nluu class has been affected by the Covid-19 epidemic. While waiting to be able to revive it seriously, Claudia and Katrina published in 2021 a story in nluu, The Turtle and the Ostrich. "Languages are not just a means of communication," says Sheena. They reflect concepts, a way of seeing the world… And it is an important marker of cultural identity. Without the determination of Ouma ("grandmother", in Afrikaans) Katrina, the nluu would undoubtedly have disappeared when she died. She is saving him from an announced death. "It only takes one charismatic person to bring a language back to life," enthuses Matthias. Even if the language changes, it is not important. What matters is that it is spoken, and that those who speak it consider it nluu.»
As the children confidently sing a Christian song translated into Nluu by Katrina, Kayleen, 11, says: "When my children and grandchildren grow up, I want to speak Nluu and I will be proud to speak our language to the world, as Ouma Katrina wants. Claudia smiled. " I'm happy. They are the future. With them, the language can continue to live.»
You may also like
Archives
Calendar
December 2023
M
T
W
T
F
S
S
1
2
3
4
5
6
7
8
9
10
11
12
13
14
15
16
17
18
19
20
21
22
23
24
25
26
27
28
29
30
31