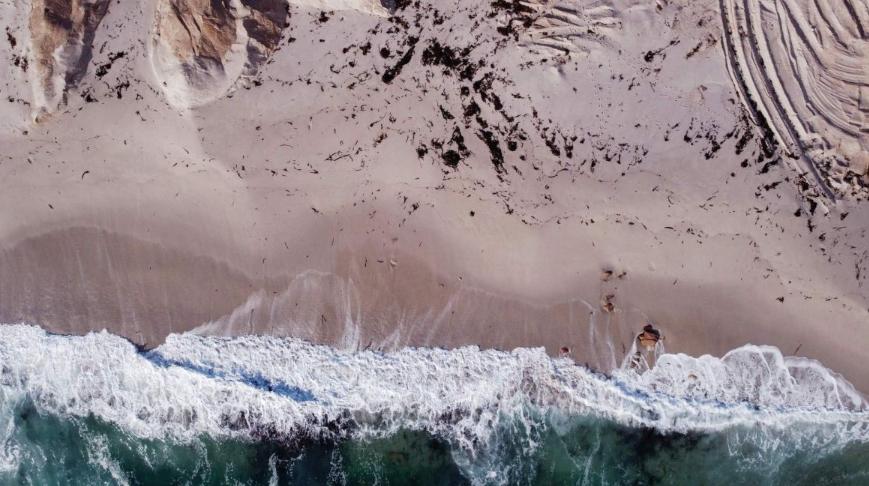 Written by BEE NEWS on October 21, 2022
Surfers vs. miners for "one of the last places in South Africa to get lost"
News
The expansion of mining activity on the Atlantic coast of the African country pits mining companies against surfers, environmentalists and residents of the area.
With its pink flamingos, white-sand beaches, turquoise water and good waves, part of South Africa's west coast has become a battleground between mining companies and surfers and environmentalists fearful that these operations will destroy the place.
The truth is that diamonds, zirconium and other minerals have been mined for decades around the Olifants River estuary, which empties into the Atlantic Ocean some 300 kilometers north of Cape Town. But plans to expand this activity – the Tormin mine has received authorization to extend its activity to 10 more beaches – have sparked outrage among surfers, environmentalists and residents of the rural region, who have reacted with demands and petitions.
"It's one of the last places in South Africa where you can go get lost," surfer Mike Schlebach, 45, co-founder of the environmental organization Protect the West Coast, told AFP.
In June, the Center for Environmental Rights (CER) managed to get the courts to impose stricter environmental controls, although they distrust compliance with these. The association's lawyer, Zahra Omar, assures that "we can go back to court if the mine does not respect the terms" provided.
Minerals Commodities' lawyer, Fletcher Hancock, told AFP that "the company is committed to improving the social and economic situation of South Africans" and to "carrying out its activities in a sustainable and eco-responsible manner".
Two government ministries in charge of mineral resources and environmental affairs did not respond to AFP questions.
For Zahra Omar, the Department of Mineral Resources and Energy (DMRE), which oversees mining activities, has contradictory objectives: it must stimulate economic activity but also ensure that strict environmental laws are respected. "Unfortunately, the responsibility to protect our environment falls on organizations like CER," she says.
With dozens of applications from other mining companies already filed, residents near the estuary fear promises to reduce damage may not be met. "If there is mining activity in the sea, on the beach, on the land, what access will we have to the coast?" asks the militant Suzanne Du Plessis, 61 years old. "It would be disastrous for us and even more so for nature, which has no voice," she adds.
Effects and alternatives
The presence of mines is already noticeable, with the accumulation of mud and sand at the mouth of the estuary, they explain. Or a few kilometers away, in Doringbaai, they say that a wild beach where people were walking at sunset was destroyed by heavy machinery. And if you go out to sea, for the hundreds of small local fishermen, everything has also changed. "Because they were pumping for diamonds, the fish moved away and our richest (fishing) bank is now empty," says Preston Goliath, a 46-year-old fisherman.
The Trans Hex mining company, which has held the mining rights in this area since 1991, ensures that it complies with all environmental requirements. But more and more local activists are calling for mining activity to stop, for the government to assess the cumulative impact of the mines, and to think about alternative investments. "There are a whole host of new industries that could have a positive impact, like algae farming," suggests surfer Mike Schlebach. "We must show them that there are better things to do," he concludes.
You may also like
Archives
Calendar
December 2023
M
T
W
T
F
S
S
1
2
3
4
5
6
7
8
9
10
11
12
13
14
15
16
17
18
19
20
21
22
23
24
25
26
27
28
29
30
31